Every girl has used them at one point or another and probably has lost a ton of these tiny hair tools along the way. This small but very functional hair accessory is so versatile there's no wonder why hairstylists and the every girl use them daily to create a wide variety of hairstyles. Whether you have long or shorter hair, bobby pins come in handy and these tips and tricks will entirely change the way you've always used them.   
Place them the right way
photo by skincaresuggestions.com
Most people don't know that there's a wrong way and a right way to place a bobby pin in the hair. Don't just grab and place them in. Every time you grab a bobby pin it's important to make sure that when you place it in the hair you have the bumpy side down. The flat part should be on top so that the bumpy side is along the scalp creating a firm hold. They work best when you weave them under and over the hair strands while placing them in.
Spray dry shampoo to make it stay put
This tip is gold! Bobby pins are sleek in nature so to give them an even better hold try spraying them with a touch of dry shampoo. Spray just a little bit to the inside of the pin to make them wiggle proof.  
The bobby buddy system
This system suggests crisscrossing the bobby pins into each other rather than stacking them in the hair. Start with the one coming from the left, and the other from the right, and weave them together for the ultimate interlocking hold.
Fill with small strands
Although a lot of hair can fit inside them we recommend only placing about 1/4" thick strand of hair in the bobby pin. Inserting too much hair will stretch out the bobby pin which counterintuitively will result in a lose hold. You also risk damaging the bobby pin by stretching it out too much making it nearly unusable in the future.
The Flip - an over/under technique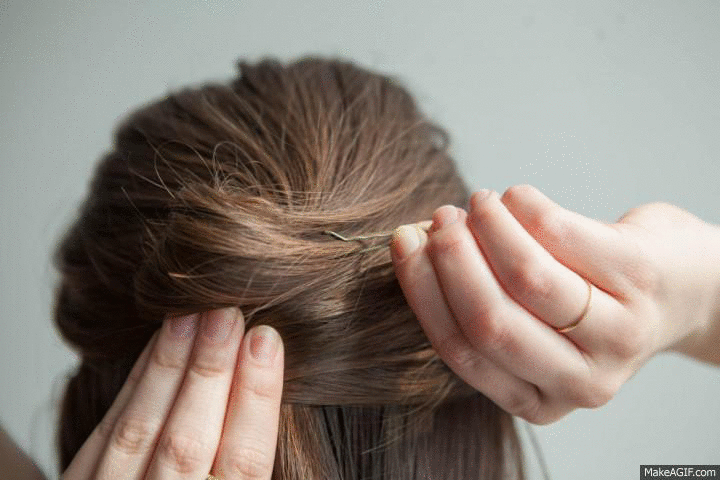 Hidden bobby pins will hold your entire up-do if you use the Flip technique. Start by placing the bobby pin horizontally into the strand. Once the hair inside reaches the end of the bobby pin, flip it the other direction, still horizontal just facing the other direction. Then weave it through the hair close to the scalp.